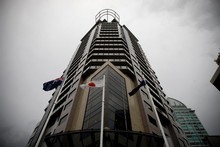 The Spencer on Byron has weather tightness issues yet to be resolved and heading for court soon. Photo / Dean Purcell
A two-level penthouse at the top of one of Auckland's top hotel and apartment blocks is up for mortgagee sale.
The luxury unit is in the Spencer on Byron, a hotel building where the All Blacks have stayed during the Rugby World Cup.
Barfoot & Thompson is advertising the distressed sale.
"Once upon a time a luxurious penthouse on the 20th floor of the Spencer on Byron and sprawling over two levels with expansive Auckland city and Lake Pupuke views.
"Unforeseen circumstances saw this once-modern apartment being stripped of nearly all of its fixtures and fittings, leaving a blank canvas for a new owner to create their own masterpiece," the advertising says.
"Forget all previous price indications."
The tower has weathertightness issues, yet to be resolved and heading for court soon, after drawn-out litigation.
Investors in the block are fighting Auckland Council for their right to compensation over leaks. In August, the Supreme Court granted them the right to fight but the case will not go to court until after Christmas.
Mortgagee sales have stayed high this year, with 1008 forced sales between January and June, down 221 on the same time last year.
Mike Donald, managing director of Terralink, said 1229 mortgagee sales were recorded from January to June last year but that forced sales are four to five times higher than pre-recession years.
Families appear to be suffering now more than landlords, he said.
"In 2007, there were just 230 mortgagee sales recorded from January to June. Two years on from the peak of 343 forced sales in September 2009, numbers still remain very high.
"If you consider mortgagee sales to be one of the factors in gauging economic recovery, then we are certainly not out of the woods yet. People out there are still losing their homes and property investments," he said.
A scan of realestate.co.nz, with 80,000 properties listed by many agencies, showed 419 listings when mortgagee sale was entered into its search engine.
Donald said 23 per cent of mortgagee sales were of properties owned by individuals with just one property, most likely their family home.
But last year these property owners made up just 19 per cent of all mortgagee sales.
"A mortgagee sale is the result of months and months of economic hardship so we are likely to feel the sting of the prolonged economic downturn for a while yet," he said, "even if we are seeing signs of economic growth."
By Anne Gibson | Email Anne